Based on the state of the housing market right now, you might want to think about starting your home hunt again if you put it off at any point over the past two years. According to recent data, there are more properties available for purchase, offering potential buyers like you more choices.
Even though the inventory situation is getting better, it's still a sellers' market, so it's crucial to remember that. You must therefore be ready when you start your property search. Here are three suggestions for purchasing the house of your dreams right now.
1| Recognize How Mortgage Rates Affect Your Ability to Purchase a Home
This year, mortgage rates have increased dramatically, and they have been shifting a lot over the last few weeks. When considering owning a home, it's critical to keep up with rate developments and comprehend how they may affect your ability to make purchases. The graph below can be useful.
Let's imagine your monthly mortgage payment falls between $2,100 and $2,200. When a payment is within or below that range, it is indicated in green on the chart; when it is over it, it is indicated in red.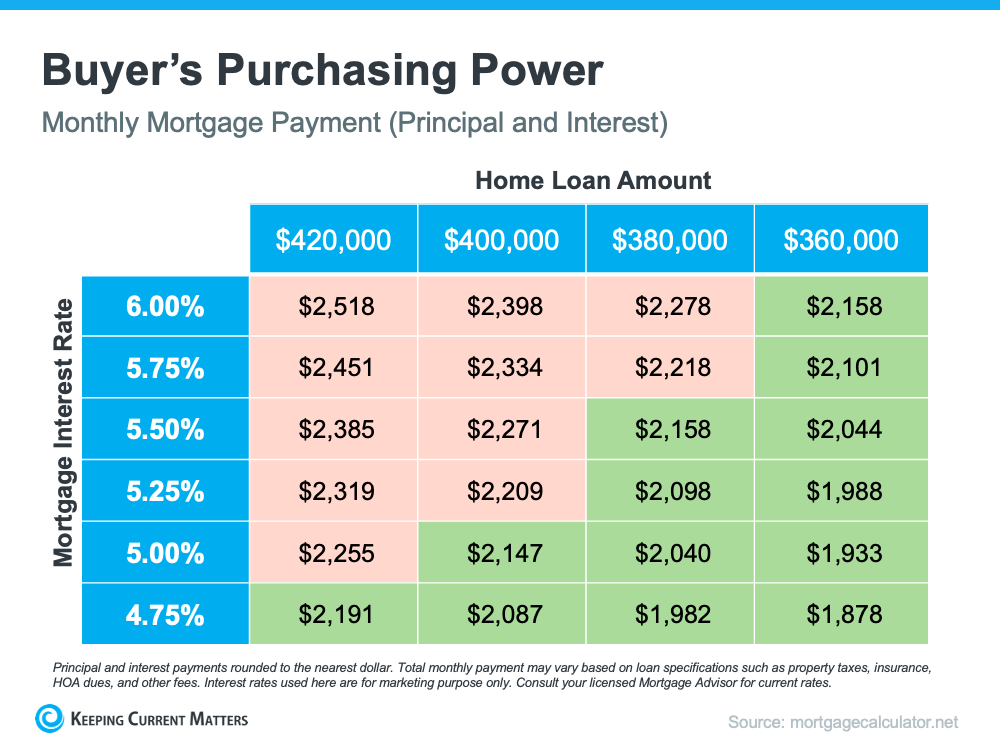 Your monthly payments can be significantly affected by even a modest shift in mortgage rates, as the figure illustrates. If interest rates increase, you can go over your budget unless you negotiate a smaller home loan amount. If rates decline, your purchasing power can rise, giving you more possibilities in your quest.
2| While Searching, Be Open to Investigating Several Options
You have more options for homes because there are more of them on the market. Historically notwithstanding, supply is still scarce. That implies it can be worthwhile to broaden your search while you look for homes if you don't find anything that suits your needs.
Some factors buyers today should take into account are highlighted in a recent Washington Post piece. It supports broadening your horizons. For instance, it can be worthwhile to give a place you've already ruled out (like a certain town) another look.
Additionally, if you're able to, broadening your search to incorporate various housing kinds, such as freshly constructed homes, condominiums, or townhomes, will help you find more possibilities. Even though there are more houses for sale right now, expanding your search parameters could lead to the discovery of a hidden gem.
3| Seek the Advice of a Local Real Estate Professional
Ultimately, preparation is key when home-hunting. Jeff Ostrowski, Senior Mortgage Reporter for Bankrate, explains:
"Taking the leap to homeownership can provide a feeling of pride while boosting your long-term financial outlook, if you go in well-prepared and with your eyes open."
Working with a real estate professional is the greatest approach to ensure that you are set up for success, regardless of where you are in your road toward homeownership. If you're just beginning your search, a real estate expert can assist you comprehend your local market and look for properties that are now available. Additionally, they will serve as a skilled advisor and negotiator to assist your offer stand out from the competition when the time comes to make one.
Summing it Up
Finding the home of your dreams may be possible if you strategically organize your home search by being aware of current mortgage rates, casting a wide net, and assembling a team of specialists. Join forces with a neighborhood real estate advisor to ensure that you receive professional guidance at every turn.